Subcategories of theatre and circus explore the breadth of my design and fabrication ability. If you have a show in development and would like a collaborative designer who can work to tight deadlines and budgets please have a browse and contact me at …  andie.scott@btinternet.com
It is helpful to receive reviews of my work….. below are some from 'Miss Havisham's Expectations' written and directed by Di Sherlock, performed by Linda Marlowe.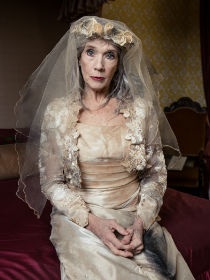 …. designer Andie Scott dresses Marlowe perfectly. Her scorched wedding gown, her grey matted hair with braids in it – and yet blood red lipstick – she's an echo of the expectant bride who had her whole life stretching ahead of her.
The iconic Miss Haversham look, a skeletal old lady in a decaying wedding dress, is created beautifully. And the costume design was my favourite part of this show; the two 'Estella' dresses are quite breathtaking, glistening like sweetie wrappers. …. Fringe guru
The staging is very strong: dishes painted on a table's cloth are clock faces (relating to the passage of time / ageing that is highlighted in the play), a cobwebbed wedding cake at the head of the table gains qualities of a grave stone and a standing mirror provides a screen for projected pictures.http://viewsfromthegods.co.uk/miss-havishams-expectations.shtml
First up is Miss Havisham's Expectations, which sees the mysterious and bitter 'Norma' Havisham from Great Expectations tell her story. Enter Linda Marlowe in decaying wedding dress, made up like someone who hasn't seen the sun for decades. The colourlessness is accentuated in the design work (Andie Scott), with a white, silvery and transparent set presented against a black background.
Boasting a minimalist yet imaginative and effective set…..ginger hibiscus
The stage is largely kept simple, and this works, allowing it to become the location for any number of schemes and memories.